OUT OF STOCK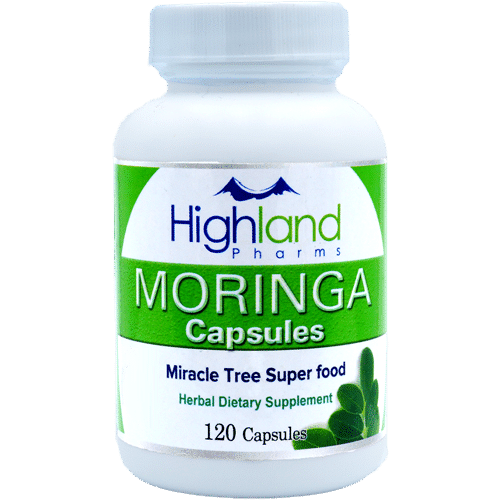 HP Moringa Powder Capsules – 120ct
$22.95 — or
/ month
HP Moringa Powder Capsules are a great addition to work with many of the other products on this site. Order yours today!
**For a great alternative, try Hemp Indica's Moringa CBD Powder
Out of stock
Description
Highland Pharms Moringa Powder Capsules – 120ct
We have added the Highland Pharms Moringa line of Capsules, Powder and Teas because we feel they are an ideal option. For those seeking all-natural solutions to health conditions need choices. And, oftentimes, the holistic way requires people to try a couple of different options before they find the one that is best for them.
Moringa Oleifera has been called "one of the most nutrient dense foods on the planet". But, even beyond just being a nutrient rich food, many people around the world, for centuries, have used Moringa for the treatment and/or prevention of many health conditions.*
Each Capsule has 380mg of Moringa Powder from leaves. Most people take 1 capsule in the morning and 1 in the evening. But, as with all plant based products, you can take what you feel is appropriate for your body.
Moringa leaves have been taken by people in Southeast Asia for centuries to ensure optimum health. Now, people the world over are discovering this exceptionally nutrient dense super food. In fact, this is known as The Single Most Nutrient Dense food on the planet. No other single food comes close. With over 92 nutrients, Moringa brings the body 46 antioxidants and 36 anti-inflammatory agents along with other various compounds.
Powdered Moringa Oleifera (most people refer to simply as "moringa") leaves, according to information found on Wikipedia, gram for gram contains:
25 times the Iron of Spinach
17 times the Calcium of Milk
15 times the Potassium of Bananas
10 times the Vitamin A of Carrots
9 times the Protein of Yogurt
4 times the Fiber of Oat
And, we feel its important to note that the Highland Pharms Moringa Powder is still green! Many powders available are actually brown which indicates it has been exposed to high levels of heat and/or has been over-processed. These practices severely deplete the freshness and potency of the plant.
Moringa assists the body with exceptional health by providing it the nutrition and energy it needs to do what the body was designed to do – be healthy.
We are prevented by the FDA from making any health claims. The plant does not directly fight any of these conditions. Rather, the plant provides the body what it needs to maintain the highest possible level of health that it can.
Find out why so many around the world are discovering what Moringa can do for them!
A little about the brand Moringa Caps we carry. The farmer starts by growing GMO Free plants/trees organically in fields that are not treated with harsh chemicals. They harvest the plants and move them through the processing in as low temperature facilities as possible to maintain the freshness and highest potency possible. Then, they package the moringa without any preservatives, chemicals, fillers or glutens. Just high quality, fresh powder for you.
Ingredients: Moringa Tree Leaf Powder, Cellulose Capsules
Highland Pharms Moringa Powder Capsules – 120ct
Additional information
Non Extract
| | |
| --- | --- |
| Base | |
| Brand | |
| Flavor | |
| Manufacturer | |
| Quantity | |
Extract
Dimensions
| | |
| --- | --- |
| Weight | 3 oz |
| Dimensions | 2 × 2 × 4 in |
There are no reviews yet.