Free Priority Shipping On Orders $75+
SALE!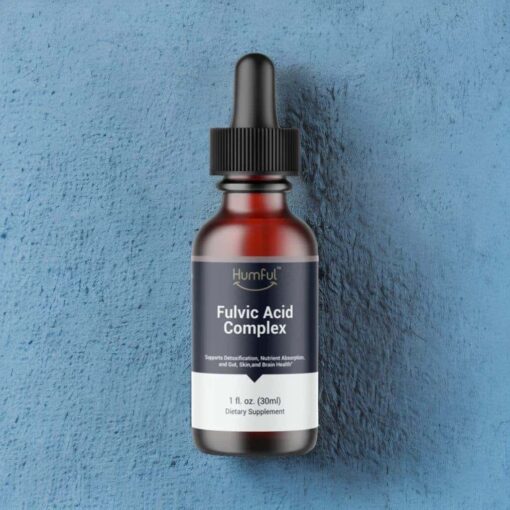 Humful Fulvic Acid Complex Drops
Humful's premium fulvic acid drops are a powerful, all-natural supplement that can support a wide range of health benefits.
Nature's Most Potent Antioxidant
Supports Immune System
Boosts Digestive Health
Exclusive Rare Ancient Seabed Mineral Source
77+ Ionic Minerals
The Humful brand offers high-quality fulvic acid drops made from natural humic and fulvic minerals sourced from an ancient mineral deposit that was once a sea bed.
Fulvic acid is an organic compound found in soil and plants that has potent antioxidant properties that can protect cells from oxidative stress and free radical damage. It can promote a healthy immune system, aid digestion, and increase nutrient absorption efficiency. Fulvic acid can also support healthy skin and hair by promoting collagen production, nourishing the hair shaft, and keeping the skin radiant.
The Humful fulvic acid drops are concentrated with fulvic minerals, with a hydrometer test reading of 100%, setting them apart from other fulvic acid supplements on the market. Unlike other products that use harsh chemicals, wetting agents, or additives to artificially increase mineral content or alter appearance, Humful uses a proprietary process that breaks down the fulvic minerals naturally over almost a decade and extracts them using pristine water, preserving the delicate nature of other beneficial compounds such as amino acids, electrolytes, and vitamins.
The result is an effective and pH-balanced product packed with all the goodness of fulvic acid.
Incorporating the Humful premium fulvic acid drops into your daily routine is easy. Simply add the recommended dosage to a glass of water or your favorite beverage and enjoy the potential health benefits. With Humful's commitment to quality and purity, you can trust that you are getting the best possible product to support your overall health and wellness.
In conclusion, Humful's premium fulvic acid drops are a natural and effective supplement that can support a range of health benefits, including immune system support, healthy digestion and metabolism, and healthy skin and hair. With their proprietary process and commitment to purity, Humful sets themselves apart from other fulvic acid supplements on the market. Give their product a try and experience the power of all-natural fulvic acid for yourself.
Ingredients
100% water extracted fulvic acid
Directions
Take one serving, once or twice daily, or as directed by a health care professional
There are no reviews yet.