SALE!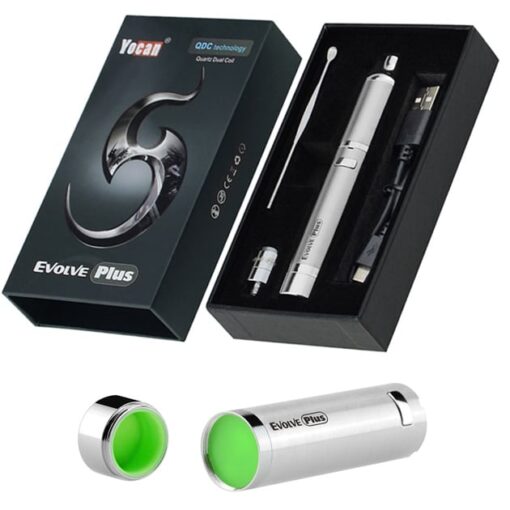 Yocan Evolve Plus Dab Pen
The Yocan Evolve Plus features a dual quartz coil design for clean and healthy vaping, a coil cap to prevent leaking, and a built in silicon dab container to store your CBD concentrates while you are on the go.
Description
Yocan Evolve Plus – Best Dab Pen
You are going to fall in love with Yocan Evolve Plus! It's perfect for you when you want to have a CBD dab pen on the go, or to have near you in your home should you need a fast serving of CBD.
No more unsatisfactory nor burnt tastes because this CBD wax vaporizer will bring you the best vape experience. With its powerful and long lasting 1100mah battery and unique Evolve Plus dual quartz coils, you will notice precisely why thousands of people have made it clear that this is the vape pen for them.
Innovative quartz dual coil wax vaporizer pen with built-in silicon jar and micro USB port for charging. Also comes with a dab tool and extra coils for the heating chamber!
Yocan Dual Quartz Coil

The Evolve Plus atomizer coils are crafted with Quartz instead of traditional fiber wick for the most pure vaping experience. The Quartz dual coil promises a crystal clean and smooth way to vaporize your daily CBD.
Yocan Evolve Plus Dab Pen Exploded View
Powerful and Durable
With a long lasting 1100mah battery providing 15 seconds of continuous heating, this portable concentrate vaporizer is second to none, and is the best wax vape pen we have tested thus far with the CBD Dabs for sale on our site. Simply press and hold the power button to activate the heating element! Without pressing and holding, click the power button 5 times to turn the battery on and off.
Your Box Contains…
Functional Coil Cap
Built In Silicon Dab Jar
Patented by Yocan, the built-in silicon dab jar is by far the most consumer-friendly feature of this product. Being able to discreetly carry your CBD crumble in this easy to travel with vaporizer pen had been one of the most requested features by our customers, and we have delivered once again.
Tips On How To Use Yocan Evolve Plus
1. Start Small
Load smaller amounts into the Dab Pen atomizer. The Evolve Plus Vaporizer (EP) comes with its own built in silicon concentrate container in the base of the battery. There's no need to try and pack the chamber with a large amount of concentrate. For ideal consumption, add a small dab to the chamber about the size of 2 grains of rice, or even less. This will help ensure optimal airflow as well as prevent the air holes from becoming clogged.
A little goes a long way when using extracts. Not only in the amount of dab being vaped, also with the amount of time inhaling.
For those starting out, use a small amount of concentrate, inhale gently, and only for a second or two. This will help you become acclimated to the device and the feel of the vapor. Keep it small until you feel more accustomed to the process, and you find the most desirable effects.
2. Don't Overtighten
Tightening the pieces that are threaded too much may, over time, cause some difficulty opening those pieces. Concentrates can and will collect on the parts, and may be sticky, including in threads.
If you've over-tightened the thread the threads start to become stuck from residual hemp extract, the ability to unscrew becomes hindered.
To remedy this, you'll want to warm the battery up by pressing the button and trying to unscrew. At times, that may not be enough, and we have found that ratcheting pliers help the best to remove the cap/chamber/cap.
The perfect setting will be with the base tightened to the battery snug, but not over tightened. That way you can screw the mouthpiece and coil cap on and off without too much trouble. Maintain clean threads using alcohol and a wipe/cloth.
3. Use The Coil Cap
The Evolve's functional coil cap not only prevents dust and debris from entering the dab chamber, it also helps keep your concentrates from spilling.
When you inhale on the mouthpiece, the airflow continually clears through the coil cap, acting as a guard against splattering of the heated oil. When the dab oil heats, it goes through several stages. Prior to heating, the concentrate is most likely a solid. As the heat rises, the extract will liquefy, and shortly after will vaporize. This is called the boiling point.
Draw gently when you do use this pen. With less displacement, the extract will stay closer to the dual quartz heating elements, allowing for the best possible vape, as well as keeping your pen clean.
4. Keep It Clean
Cleaning Your Portable Dab Rig – the more clean you keep your dab pen and chamber, the more you'll be able to enjoy flavorful and effective vape clouds. Do not scratch the quartz. Use a gentle brushing if you absolutely have to, in conjunction with an alcohol soak to clean it. 99% isopropyl or comparable is ideal. Allow the entire unit to dry completely before assembly for your next use.
Specs
Brand
Yocan
Model name
Yocan Evolve Plus
Type Of CBD Product
Specially for wax/concentrate
Heating Element Material
Pure metal with quartz coils
Advanced Technology
QDC( Quartz Dual Coils ) technology
Color
Black
Thread
Standard 510 thread
Battery
1100mah
Weight
210g
Package contents
1* Evolve Plus dual quartz atomizer with heat cap
1* 1100mah Evolve Plus battery
1* Extra quartz dual coils
1* Wax tool
1* Micro USB cable
1* Instruction Manual
Additional information
| | |
| --- | --- |
| Brand | |
| Manufacturer | |
| Quantity | |
Dimensions
| | |
| --- | --- |
| Weight | 8 oz |
| Dimensions | 2 × 1 × 5 in |
15 reviews for
Yocan Evolve Plus Dab Pen
---
15 Customer(s) recommended this item
Reviewed by 08 customer(s)
Very nice pen, I bought the same one 4 years ago. It still works but was beat up so I upgraded. The new one is much nicer and got here in 2 days after purchase!

I can't believe how easy it is to use. It isn't harsh at all when vaping. Wonderful product.

Great price,fast shipping,works great

I love this product! Evolve Plus is easy to use and very convenient to store your concentrates.

This is the 3rd Yo can product I've bought…. I love em. Easy to use, good quality, fast shipping.

Got exactly what I ordered love the color (black) and the design. it's super smooth vaping. Best investment I have made with purchasing yocan evolve plus. Used different vape pens and yocan evolve plus is the only way to go!!

My evole plus arrived within a couple of days and it works perfectly, I couldn't be happier

Great product quick shipping. Very Happy