OUT OF STOCK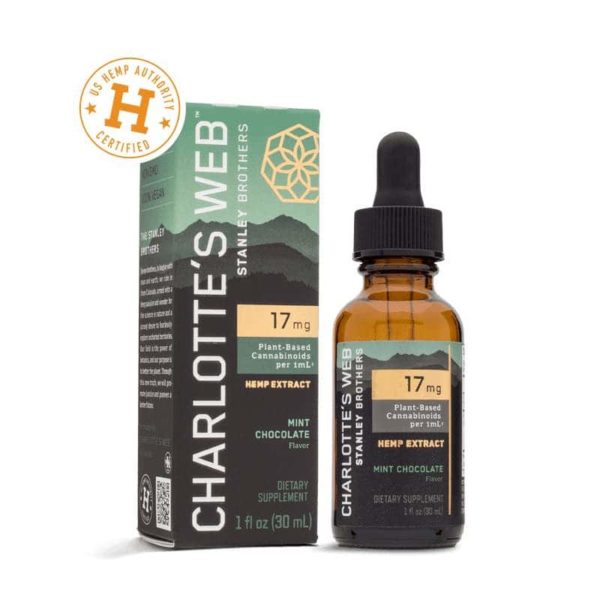 Charlotte's Web™ Extra Strength CBD Oil – 17mg/serving
$67.95 – $155.95
These Charlotte's Web Drops are a great tasting, lightly flavored, all natural mint chocolate drop for your enjoyment everyday. These Extra Strength drops come with 17mg per 1ml serving.
Description
Charlotte's Web CBD Oil Drops Extra Strength – 17mg/1ml serving
Great Tasting – Very lightly flavored Mint Chocolate.
NOW SHIPPING TO ALL 50 STATES!
From CW Hemp, these Charlotte's Web Extra Strength CBD Oil is a bit different!  This is the 1 fl oz with 500mg CBD, or a 3.38 fl oz bottle with 1690mg of CBD.
Healthy MCT Coconut Oil infused with great flavors or Olive Oil in it's most natural form.
First, Charlotte's Web strains of hemp are grown and the Cannabidiol (CBD) is extracted, along with the other cannabinoids, such as CBC, CBG, CBN, Amino Acids, Terpenes and Phytonutrients.  Then, rather than infusing the extract into hemp oil as most brands do, CW infuses the extract into MCT Oil – fractionated coconut oil – which is lightly flavored with a great Mint Chocolate taste.
The news is covered today with all the reports of benefits of Coconut Oil.  So, get your CBD and your Coconut or Olive Oil in 1 with these CBD Drops from CW Hemp.
CW Hemp is unique in that their CBD is derived from strains of hemp that are genetically developed to be high in cannabidiol.  This allows them to use much less hemp plant material than most other brands.  By using less material, their is less processing that goes into the extraction of CBD.  And, their hemp grow farms are located in Colorado and Uruguay, with another coming soon in Kentucky.  This allows them to keep the hemp much fresher since its closer to their customers in the United States.  High concentrations of CBD mean less processing and closer locations means it gets to you quicker, for improved freshness.
Healthy MCT Coconut or organic extra virgin Oil infused with the Charlotte's Web strain of hemp genetics Cannabinoids:  Incredibly high quality!  And, great tasting.
Ingredients
MCT Oil, Hemp Extract, Organic Chocolate Mint Flavor (Organic Sunflower Oil, Natural Flavors)
Organic Extra Virgin Olive Oil, Hemp Extract
Directions
Adults take two full droppers (approx. 1ml) one to two times per day.
Test Results
Charlotte's Web CBD Oil Drops Extra Strength – 17mg/1ml serving
Additional information
Non Extract
| | |
| --- | --- |
| Base | |
| Brand | |
| Flavor | |
| Manufacturer | |
| MG | |
| Origin | |
| Quantity | |
Extract
Dimensions
| | |
| --- | --- |
| Weight | N/A |
| Dimensions | N/A |
There are no reviews yet.