Free Priority Shipping On Orders $75+
OUT OF STOCK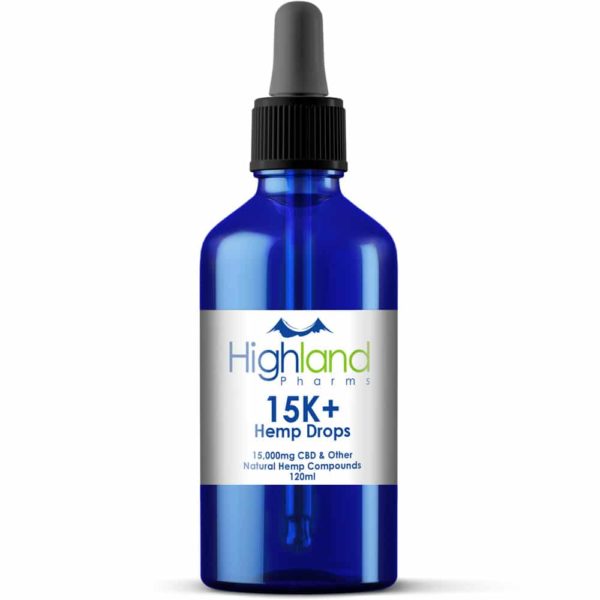 Highland Pharms™ 15k+ CBD Hemp Oil Drops
$699.95 — or
/ month
15,000mg CBD per bottle
Mint/MCT base or Natural/Olive Oil base
6.25mg CBD per drop
Highland Pharms 15000mg CBD Hemp Oil Drops
Highland Pharms has done it again! This time bringing extreme value to our CBD shop. These ultra concentrated MCT (mint) or olive oil (Natural) CBD drops are jam packed with full spectrum CBD hemp extract.
Each drop contains about 6.25mg of CBD, and there are approximately 2400 drops in this 4 fl oz bottle. That makes this product one of the best buys we have.
It is difficult to find the combination of quantity AND quality that these 15,000mg CBD drops from Highland Pharms has managed to create.
Two Flavors Available
These amazingly potent drops come in a natural flavor that is an olive oil base, and a mint flavor that is an MCT oil base. Some folks feel that olive oil has superior health benefits to MCT oil. Others may wish to take MCT oil due to their particular conditions and reasoning behind ordering this product. Please do your research.
What's With The Plus Sign?
Great question!
Highland Pharms products are not only about the cannabidiol, or CBD. There is a plethora of plant compounds that are contained within each and every bottle you take home with you.
There are terpenes, phytonutrients, fatty acids, and dozens of other cannabinoids that can be naturally present in the quality full spectrum hemp extract used to make these powerful CBD drops.
You will find the 15k+ Hemp Drops are just like the other drops Highland offers, though these are much more concentrated. For a comparison, their 500+ Hemp Drops contain 1mg of CBD per drop. These are more than 6x the strength, with 6.25mg of CBD per tiny drop! Simply amazing!!!
What's Full Spectrum Again?
Full spectrum means that the full gamut of plant compounds that the hemp cannabis plant produces. This means that not only is there CBD (cannabidiol) in there, but also CBG, CBDa, CBC, and minute traces of naturally occurring THC.
The hemp plants are also meticulously and organically grown by a boutique hemp farm in the high Rockies of Colorado, providing to you the best quality product you can find.
NOTE: REFUND POLICY DOES NOT APPLY TO THIS PRODUCT. This product is not considered a "starter product" and it is assumed that You the customer are well aware of hemp CBD products and their effects before purchasing this item.
Ingredients
Mint: MCT Oil, Full Spectrum Hemp Extract, Mint Flavor
Natural: Olive Oil, Full Spectrum Hemp Extract
Directions
Take one serving, once or twice daily, or as desired.
Test Results
Highland Pharms 15k+ CBD Hemp Oil Drops
Additional information
Non Extract
| | |
| --- | --- |
| Allergen Notice | |
| Base | |
| Brand | |
| Flavor | |
| Manufacturer | |
| MG | |
| Origin | |
| Primary Cannabinoid | CBD |
| Quantity | |
| Secondary Cannabinoid | |
Extract
| | |
| --- | --- |
| Extract Type | |
| Extraction Method | CO2 |
Dimensions
| | |
| --- | --- |
| Weight | N/A |
| Dimensions | N/A |
There are no reviews yet.