OUT OF STOCK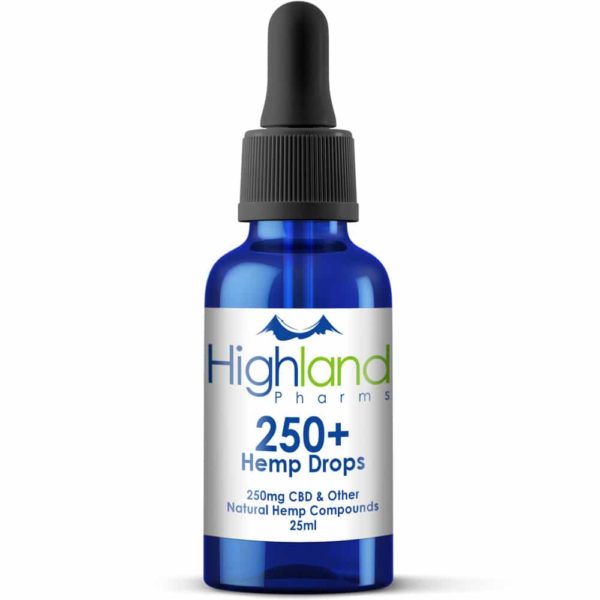 Highland Pharms™ 250Plus Hemp Oil Drops
$29.95 — or
/ month
We PROUDLY offer the highest quality hemp-derived 250mg CBD drops available in the U.S.  CBD occurs naturally in Hemp and is commonly taken to improve well being.
**For a great alternative, try Wellspring's 500mg CBD Drops
Description
Highland Pharms 250Plus Hemp Oil Drops
AVAILABLE IN STRAWBERRY FLAVOR, MINT FLAVOR or a NATURAL FLAVOR OPTION!   The flavorings are all natural.
Highland Pharms had changed the name of all their products to recognize the fact that their products ARE NOT JUST CBD products.  Rather, they are CBD-plus all the other cannabinoids, phytonutrients, terpenes, amino acids and so much more that is present in the plants.
This 1 fl oz bottle of CBD drops contains 250mg of CBD.  Average Dosage is 10 drops and contains approx 5mg CBD (each drop has about .5mg of CBD).  50 servings per bottle.  Note:  this 1 ounce bottle will have 25 ml of liquid, making the bottle look slightly less than full.  This is intentional and all bottles still have a minimum of 250mg of CBD.
THIS IS AN EXCELLENT CHOICE OF CBD FOR LARGER PETS, TOO!
The Highlights:
Colorado Grown Hemp
Pharmaceutical Grade Hemp
MCT Oil Base
All Natural
Full Spectrum Cannbinoid Blend
Utilizing Only Hemp that is:
NON-GMO
Pesticide Free
Herbicide Free
SuperCritical CO2 Extraction Provides Full Spectrum of Hemp Extract:
CBD
CBC
CBG
CBN
400+ PhytoNutrients
Omega 3 and Omega 6 Oils
B Vitamins
Amino Acids
Ketones
Terpenes
We PROUDLY offer the highest quality hemp-derived products available in the U.S.  CBD occurs naturally in Hemp and is commonly taken to improve well being.  All HighLand Pharms CBD Oil products are from hemp and contain virtually no THC, therefore there is no 'high' associated with taking this product.
Our CBD Hemp Oil Drops are not formulated to be helpful first and flavorful, second.  Other brands deliver a lower quality CBD that may taste good, but is not necessarily as effective.  Because of the exceptionally rich CBD Extract we use, including the full spectrum of cannabinoids, our formula does have a slightly "hempy" taste.  Usually, after 3-4 dosages, the person becomes somewhat accustomed to the taste, as it only takes a moment to swish it in the mouth, then swallow.  Most people report the results they get are worth it and come back time and time again.
Highland Pharms CBD Hemp Oil Drops are available in either "Natural",  "Mint" or "Strawberry" flavor.  And, we are so committed to all our products being fresh, pure and clean that even our Strawberry Flavoring is from Real Strawberries!
Ingredients
MCT Oil, CBD Hemp Extract, All Natural Flavoring
Directions
Take 10 drops, once or twice daily, or as needed.
Test Results
Highland Pharms 250Plus Hemp Oil Drops
Additional information
Non Extract
| | |
| --- | --- |
| Allergen Notice | |
| Base | |
| Brand | |
| Flavor | |
| Manufacturer | |
| MG | |
| Origin | |
| Primary Cannabinoid | CBD |
| Quantity | |
| Secondary Cannabinoid | |
Extract
| | |
| --- | --- |
| Extract Type | |
| Extraction Method | CO2 |
Dimensions
| | |
| --- | --- |
| Weight | N/A |
| Dimensions | N/A |
1 review for
Highland Pharms™ 250Plus Hemp Oil Drops
---
01 Customer(s) recommended this item
Reviewed by 01 customer(s)
We have used a number of CBD products. This 250mg and also the 500mg by HIghland farms is the best. We have only a few we recommend. This is the top. Mary's and charlottes being a close second and tied at 2nd together. The CBD industry has boomed since I've been using CBD. And there are many crud products out there. I try to help my friends -when I'm asked -get quality products. This site by far has many good ones and this brand is just a fave of ours! Thx wellspring!
Ps I use product for help falling asleep and for anxiety and also helps if I drink too much coffee!