OUT OF STOCK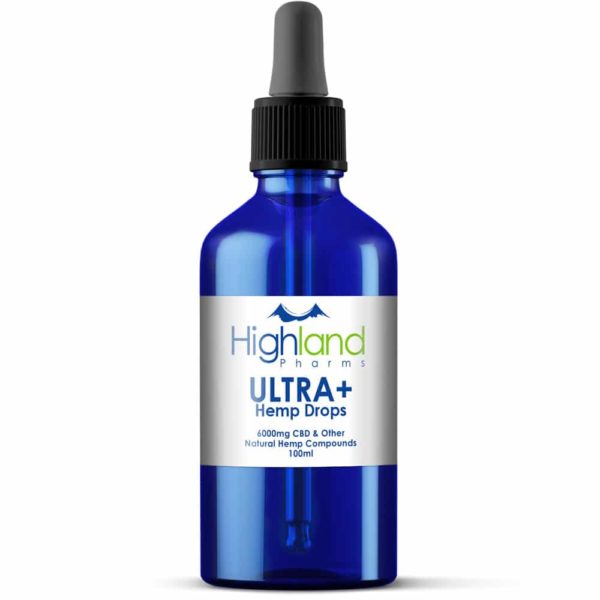 Highland Pharms™ ULTRA-PLUS Hemp Drops
$299.95 — or
/ month
Description
Highland Pharms ULTRA-PLUS Hemp Drops – 6000mg CBD
It's called "PLUS" because its not only CBD.  It is made with "whole plant" or "full spectrum" extract meaning it has CBD "plus" all the other cannabinoids and terpenes and phytonutrients and more!
Available in Mint or Natural Flavors.
This is a 4 ounce bottle with 100ml of liquid drops.  It is intentionally NOT FULL.  100ml of liquid is approx 2000 drops which allows for simple math to determine that there are approx 3mg of CBD in each drop.  This entire bottle has 6000mg of High Grade Cannabidiol (CBD), but as with all Highland Pharms products, there's more and that's the "PLUS":  Highland Pharms uses the whole plant extract for a Full Spectrum of Cannabinoids.  So, you also get CBDa, CBG, CBGa, CBN, Terpenes, Phytonutrients, and so much more.  All of these compounds work together synergistically to give you an even better sense of well being.
This is the same product as the other Highland Pharms CBD Hemp Oil Drops available with 250mg, 500mg and 1250mg (MAX) CBD, but in a more concentrated formula.  So, you use less of it at each serving and its lasts you much longer.
The Price Per Milligram of CBD in this Bottle Is Approximately 2.5 cents!!!  INCREDIBLY LOW
The hemp oil extract is infused into MCT Oil extracted from coconut.  The MCT Oil is the base of this product which is one of the healthiest oils you can use.  It is what body builders use to help build muscle mass and provide their body with the healthiest "fats" the body needs.  It also allows for a smoothness of flavor.
INGREDIENTS:
MCT Oil from Coconut
Hemp Extract
All Natural Mint Flavoring
Nothing else!
The New Lower Price makes each milligram of CBD approximately 2.5 cents.  This is some of the lowest priced Ultra-High Grade CBD anywhere.  And, Made in the USA!
1 Drop of the ULTRA-PLUS has 3mg of CBD.
Also, as with all Highland Pharms products, the extract is obtained by using SuperCritical CO2 extraction…..no solvents are used and the molecular structure of the CBD is left in as pristine of condition as possible.
This video is about the other 3 sizes/concentrations of Highland Pharms Drops, but basically applies to this product also.
All the hemp used in the production of this product is organically grown, never GMO, pesticides or any sorts of chemicals.
High Grade from Colorado
Full Spectrum
SuperCritical CO2 Extraction
No Solvents or Pesticides Used
Made in the USA!
Just pure quality CBD Hemp Oil for you and your loved ones.  Find out why so many have come to trust Highland Pharms for all their CBD needs.
Ingredients
MCT Oil from Coconut, Hemp Extract, All Natural Mint Flavoring (Mint variety only)
Directions
Take 1 ml, once or twice daily, or as directed by your physician
Test Results
Highland Pharms ULTRA-PLUS Hemp Drops – 6000mg
Additional information
Non Extract
| | |
| --- | --- |
| Allergen Notice | |
| Base | |
| Brand | |
| Flavor | |
| Manufacturer | |
| MG | |
| Origin | |
| Primary Cannabinoid | CBD |
| Quantity | |
| Secondary Cannabinoid | |
Extract
| | |
| --- | --- |
| Extract Type | |
| Extraction Method | CO2 |
Dimensions
| | |
| --- | --- |
| Weight | N/A |
| Dimensions | N/A |
1 review for
Highland Pharms™ ULTRA-PLUS Hemp Drops
---
01 Customer(s) recommended this item
Reviewed by 01 customer(s)
This product has truly aided my recovery from severe lower back pain, I highly recommend the product. For years I've taken pain medication to aid in pain relief from severe lower back pain, but the side effects of pain medication is problematic concerning constipation and abdomen pain. This product doesn't have side effects and aids in relieving the lower back pain in order to continue with physical therapy which is what truly deal with the root of the problem.