Free Priority Shipping On Orders $75+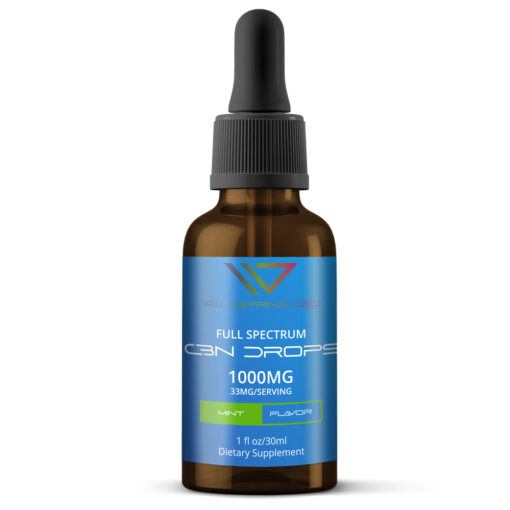 CBN Drops
$49.95 – $79.95 — or from $42.46 – $67.96 / month
Full Spectrum Experience: Our CBN drops feature a robust blend of cannabinoids, terpenes, and flavonoids, providing a comprehensive 'full spectrum' experience that harnesses the holistic benefits of the hemp plant.
Enhanced Absorption: Infused in premium MCT oil, our drops not only offer potent concentrations of CBN but also ensure optimal absorption of cannabinoids, maximizing their effects.
Quality Assured: Sourced from organically grown hemp and third-party lab tested, our CBN drops guarantee purity and potency, giving you a safe and effective product you can trust.
Introducing our unique Full Spectrum CBN Drops in MCT Oil – a potent elixir designed to support your overall well-being. This product is more than just an addition to your daily routine; it's a step towards embracing a healthier, more balanced lifestyle.
Our Full Spectrum CBN Drops are crafted with a focus on delivering a comprehensive wellness experience. Each drop contains a rich blend of CBN (Cannabinol), a cannabinoid celebrated for its soothing and calming effects. When combined with the broad spectrum of other cannabinoids, terpenes, and flavonoids, these drops offer a 'full spectrum' experience, ensuring you reap the maximum benefits of the hemp plant's natural goodness.
Each bottle contains a potent concentration of CBN, suspended in premium MCT oil. This carrier oil not only enhances the absorption of cannabinoids but also brings its own range of health benefits. MCT oil is known for its ability to support cognitive function, boost energy levels, and promote a healthy metabolism. With our Full Spectrum CBN Drops, you're not just enhancing your wellness routine; you're elevating your lifestyle.
But what truly sets our Full Spectrum CBN Drops apart is our commitment to quality and purity. We source our CBN from organically grown hemp, ensuring that each drop is free from pesticides, herbicides, and chemical fertilizers. Our drops are also third-party lab tested for quality assurance, so you can be confident you're getting a product that is safe, pure, and potent.
We understand that every individual is unique, and so are their wellness needs. That's why our Full Spectrum CBN Drops come in a dropper bottle for easy and precise dosing. Whether you're new to the world of cannabinoids or an experienced user, you have the freedom to adjust your dosage to suit your individual needs.
Experience the transformative power of our Full Spectrum CBN Drops. It's not just about feeling better; it's about achieving a state of balance and harmony in your body. It's about taking control of your wellness journey and steering it in a direction that aligns with your individual needs and goals. With our Full Spectrum CBN Drops in MCT oil, you have a powerful ally in your quest for optimal wellness.
Embrace the journey to wellness. Embrace the power of nature. Embrace the magic of our Full Spectrum CBN Drops.
Directions:
Take one dropper full (1ml) 30-60 minutes before bed. Hold under the tongue for 60 seconds for better absorption.
Ingredients:
MCT Oil, CBN hemp extract, natural flavor (except natural drops)
Test Results:
Additional information
Non Extract
| | |
| --- | --- |
| Allergen Notice | |
| Base | |
| Brand | |
| Flavor | |
| Manufacturer | |
| MG | |
| Origin | |
| Primary Cannabinoid | CBN |
| Secondary Cannabinoid | |
Extract
| | |
| --- | --- |
| Extract Type | |
| Extraction Method | CO2 |
Dimensions
| | |
| --- | --- |
| Weight | N/A |
| Dimensions | N/A |
There are no reviews yet.