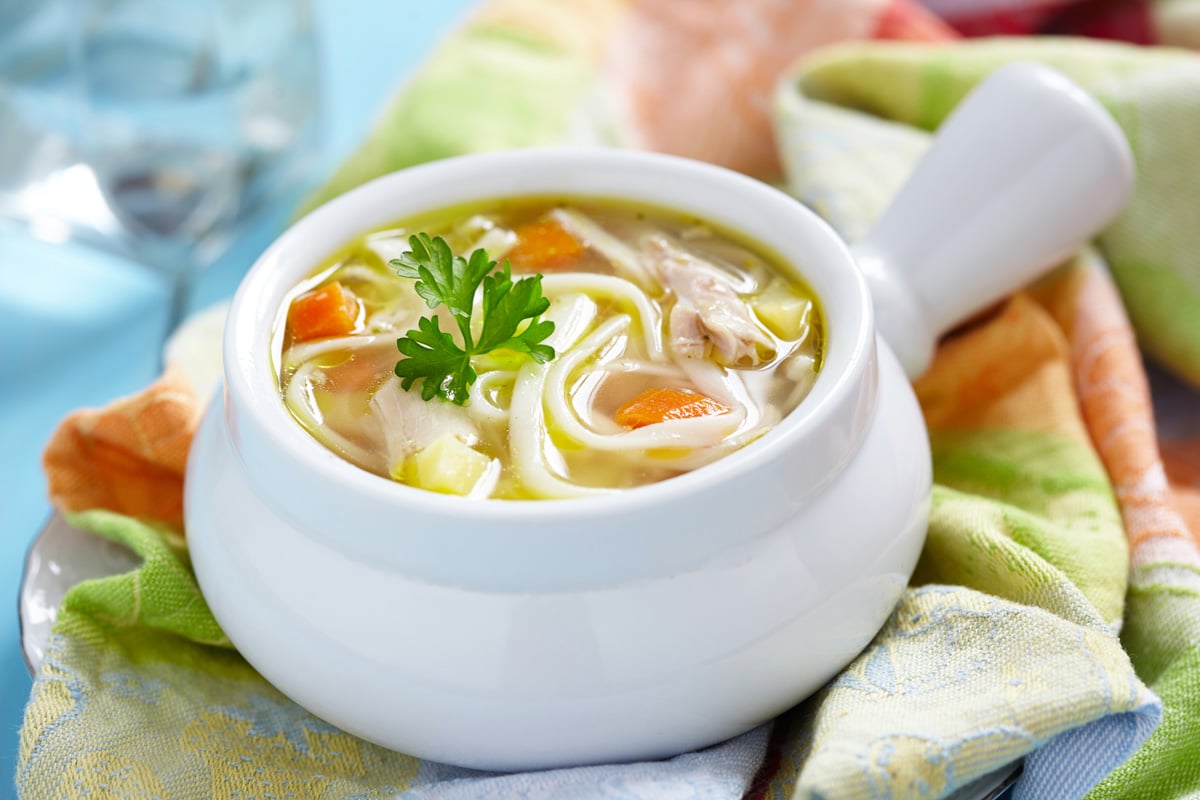 Ultimate Chicken Noodle Soup Made Better With CBD
Fall is approaching fast, and with it comes cold and flu season. Give your body and immune system a boost with an updated classic recipe: Ultimate CBD Chicken Noodle Soup.
Some people say that a warm bowl of chicken soup can cure any ailment. Others claim that it can even soothe the soul. Regardless of what's true, we can all agree that the stuff is delicious!
Now, what happens when you add CBD into the equation? Well, read on to find out! In the following sections, we'll give you a recipe of how to cook up a batch of the best chicken soup you'll ever have—made even better with the addition of CBD oil. Let's get started!
Word of caution on cooking with CBD oil
Before we begin, it's important to know that this recipe is by no means a cure for anything, except for maybe a huge appetite. Neither chicken soup nor CBD oil is considered a treatment for a cold or any other disease.
With that out of the way, also be reminded that CBD oil mustn't be allowed to go over a certain point. If it gets too hot, it might lose potency and you'd be wasting it. A safe maximum threshold is 320 degrees Fahrenheit. Stay below this temperature and you should have no problems cooking with CBD.
Recipe: CBD-infused chicken soup
Now, let's go over the recipe itself. There's a bit of preparation needed, but we assure you that your efforts will be rewarded handsomely.
// Ingredients:
1 tablespoon of olive oil
6 cloves of garlic, minced
1 white or yellow onion, diced
2 large carrots, sliced
2 celery stalks, chopped
2 – 6 servings of CBD oil
1 tablespoon of fresh ginger, grated
1 teaspoon of turmeric powder
6 cups of chicken stock
1 pound of chicken breast
2 teaspoons of fresh parsley, roughly chopped
½ teaspoon of salt
½ teaspoon of freshly ground pepper
// Procedure:
Pour the olive oil into a large pot and place on medium-high heat.
When the oil is hot, drop the garlic, onion, carrots, and celery into the pot and leave them to brown for a minute. This will translate to tons of flavor in the final dish. Once the onions are translucent, lower the heat the medium.
When the heat has lowered, spoon in your CBD oil and give everything a good mix. This will help the vegetables absorb the CBD so that it doesn't overcook.
Add the ginger and turmeric powder and let them saute for a couple of minutes.
Pour in the stock followed by the chicken and bring the entire mixture to a boil.
Let the mixture continue boiling for about two minutes before you reduce the heat to medium.
Simmer the soup for about 30 minutes, then remove the chicken and shred it with your fingers or a fork.
Return the shredded chicken to the pot and add the parsley, salt, and pepper.
Serve the soup immediately or allow it to cool completely before refrigerating.
Wrapping up
This soup is a perfect pick-me-up when you're feeling a bit under the weather. It's comfort food in its purest form—warm, rich, and definitely easy to eat. Your kitchen will smell amazing as well, so we definitely recommend giving this recipe a try.
If you're looking for a specific type of CBD oil, get in touch with us today! We have an ever growing variety of unique, high-quality CBD products.