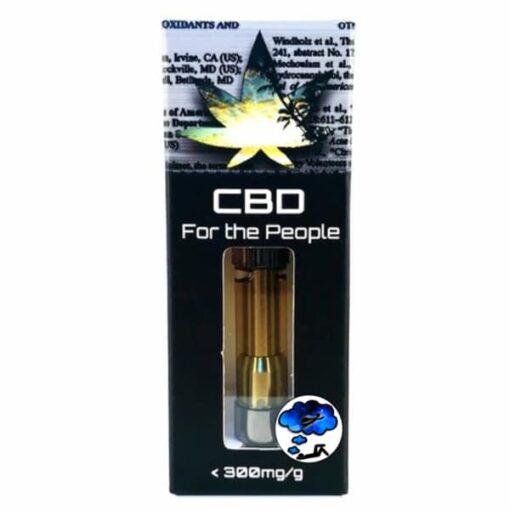 CBD FTP™ Uncut 40% CBD Wax Cartridges
$19.95 – $29.95 — or from $16.96 – $25.46 / month
-1ml or 0.5ml sizes
-400mg or 200mg, respectively
-Zero fillers
-Maximum potency
-Clean, Organic Vaping Experience
-Ceramic Heating Element – NO COTTON WICK!
CBD FTP Uncut 40% CBD Wax Cartridges
The majority of the pre-filled CBD cartridges on the market currently utilize some sort of a base oil to produce a thinner CBD e juice product. There has been a large push away from thinning agents like Polyethylene Glycol (PEG), and to safer alternatives like MCT oil. This is where the CBD For The People UNCUT 40% CBD wax cartridge set themselves apart.
CBD FTP does not use ANY base liquids in their prefilled CBD wax cartridges. Through a specialized CO2 extraction and processing method, they are able to give you the most pure, chemical free, and organic vaping experience.
CBD For The People named themselves after their core mission: The People. Dedicated to offering all-natural unrefined CBD products at an affordable price, CBD For The People bridges the gap between patient and wellness. They believe every person should be able to grow this plant in their backyards, but these are confusing times. Until that day comes they are simple messengers giving the people a plant they will one day be able to grow.
CBD For The People's organic, high-dosage, chemical/preservative free products offer unrivaled results at a fraction of the cost. Every step from seed to shelf is carefully nurtured and tested to give The People quality they deserve at a price tag they can afford.
FAQ's
Q: What Is UNCUT CBD WAX?
A: Many CBD atomizers on the market today are CUT with either PG/VG, MCT, hemp oil, or other unnatural chemical carriers. These additives produce a thinned out, free flowing finished product and maximize profits by "spreading out" the CBD milligrams to as many products as possible. We do NOT do this. This cartridge is a pure, 100% chemical-free, organic CBD vaping experience with maximum milligram potency. Extra maintenance is required, but every ingredient is RAW and grown from the earth.
It is recommended that you store your cartridge in an upright position. In cold weather, warming of the cartridge may be necessary.
Q: Can You Refill The Cartridge?
A: Yes! This is an extremely high quality cartridge that does not need to be tossed out once it is done. It can easily be refilled and used again with any type of wax.
Q: The Oil Looks Dark After Regular Use…
A: This is very normal, and is the absorption of carbon from the previously vaped CBD wax.
Ingredients
Organic and Pure CO2 Hemp CBD Oil, Cannabis Derived Terpene Profiles
Directions
Remove from package, remove thread protector, screw wax cartridge onto compatible 510 battery, inhale, and enjoy!
Test Results
Additional information
Non Extract
| | |
| --- | --- |
| Base | |
| Brand | |
| Flavor | Blue Cheddar, Blue Dream, Durban Sour, Grand Daddy Purple, Green Kush, OG Kush, Orange Cookies, Pineapple Express, Raw Natural, Strawnana, Super Lemon Haze, White Widow, WiFi (White Fire) OG |
| Manufacturer | |
| MG | |
| Origin | |
| Primary Cannabinoid | CBD |
| Quantity | |
| Secondary Cannabinoid | |
Extract
| | |
| --- | --- |
| Extract Type | |
| Extraction Method | CO2 |
Dimensions
| | |
| --- | --- |
| Weight | N/A |
| Dimensions | N/A |
There are no reviews yet.