Free Priority Shipping On Orders $75+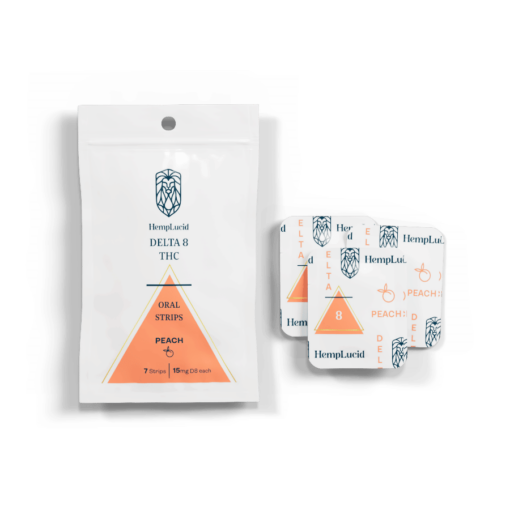 Hemplucid™ Delta 8 THC Oral Strips
$39.95
15mg D8 per strip
14 strips per order
Great tasting Orange or Peach
Rapid cannabinoid delivery for fast results
Order yours today!
Hemplucid's oral strips are truly one-of-a-kind. And with fourteen strips, you're set with quick-absorbing D-8 for at least a week!
Each strip contains an easy, pre-measured serving and dissolves quickly in the mouth, which makes these oral strips a superior method of delivering Delta 8 THC.
The individually wrapped strips come in both peach and orange flavor for a rapid, delicious way to enjoy Delta 8.
These fast-acting strips offer 15 milligrams of Delta 8 per strip and are easier than capsules or tinctures — all you have to do is put a strip on your tongue and wait for it to dissolve!
For an even more comfortable method, you can place the strip in between your cheek and molars.
It may take a bit longer than you think to feel the effects of Hemplucid's Delta 8 strips — a good rule of thumb is "however long you think, wait just a little longer." Everyone's experience will be different, but we recommend waiting at least 30 minutes before taking a second strip or another CBD product.
Ingredients
Pullulan, Hemp Derived Delta-8-Tetrahydrocannabinol Extract, Glycerin, Natural Flavors, Stevia, Citric Acid, Xanthan Gum, Carrageenan, Sunflower Lecithin, Potassium Sorbate
Directions
Take one strip as needed
Test Results
Additional information
Non Extract
| | |
| --- | --- |
| Brand | |
| Flavor | |
| Manufacturer | |
| MG | |
| Origin | |
| Primary Cannabinoid | Delta 8 |
| Quantity | |
Extract
| | |
| --- | --- |
| Extract Type | |
| Extraction Method | CO2 |
There are no reviews yet.