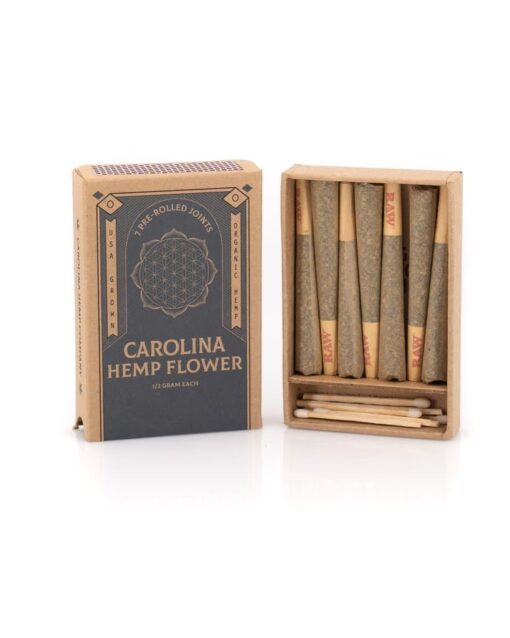 Carolina Hemp Company™ Pre-Roll Kits
$44.95
Each Carolina Hemp Company Pre-Roll Kits comes with 7 carefully filled full-gram prerolls made with Carolina and Oregon grown hand-trimmed non-irradiated flower, never shake, for maximum quality and consistency.
CBD and CBG Hemp Pre-Rolls Made with Top Shelf Hemp buds. Order yours today!
Description
Carolina Hemp Company CBD Hemp Flower Pre Roll Kits
CBD Hemp Flower is one of the most popular products in the CBD market today. The name refers to the flower of the female Hemp plant, which, when it blooms, the flower (or bud) secretes valuable cannabinoids and resin.
These secretions are meant to attract bees and other insects, which then deposit the pollen from the male hemp plants and thereby produce seeds. This amazing natural process creates a plant that offers so many benefits, from nutritionally-rich seeds, to building material for durable products, and of course CBD.
IS HEMP FLOWER MORE EFFECTIVE THAN OTHER CBD PRODUCTS?
Hemp and cannabis are both variants on the Cannabis Sativa plant, and Hemp produces more CBD while Cannabis produces more THC. But unlike cannabis, Hemp Flower is non-psychoactive, meaning that the product will not create an experience of intoxication or leave you impaired in any way.
The CBD produced by our organically-sourced Hemp Flower is a potent and natural vehicle for all of the most beneficial cannabinoid effects. And there are so many ways to use it – making Hemp Flower an easy and approachable product that can bring a positive impact to almost everyone.
HOW DO YOU ASSURE THE QUALITY OF YOUR HEMP FLOWER?
Like everything we do, sourcing Hemp products from farms whose methods we believe in is a top priority. All of our Hemp Flower products are organically-grown and sustainably sourced from NC and Oregon growers.
Keeping any superfluous chemicals or pesticides out of the Hemp Flower ensures that you receive the most pure and potent flower on the market today. We believe in the effects – and we want to make sure that nothing gets in the way of your enjoyment of all of the incredible benefits our Hemp Flower offers.
WHERE IS YOUR HEMP FLOWER GROWN?
The CBD Flower we source for our products is grown both locally in North Carolina, and in Oregon. Both of these climates offer ideal growing conditions for CBD Flower, ensuring the potency and the purity of the resulting natural products.
What are the Benefits of Using CBD Hemp Flower?
Did you know that, built into our body's intricate system, there is a network of receptors that react exclusively to CBD? It's called the endocannabinoid system, and this is the gateway to the many positive effects produced by CBD from Hemp Flower in the body.
We believe that everyone deserves to be able to enjoy life with continuous well-being and freedom from stress. And, if you feel that CBD Hemp Flower is a good choice to help manage your health and achieve greater well-being, we can help you choose the perfect fit from our exhaustive product line, and show you how to use it in the most effective way.
HOW DOES HEMP FLOWER MAKE YOU FEEL?
Unlike Cannabis, CBD Hemp Flower is non-psychoactive, meaning that its use will not cause feelings of intoxication, paranoia, anxiety, or sensations of impairment. This makes CBD Hemp Flower an excellent option for those who want to enjoy the many benefits of CBD, while avoiding possible unwanted effects like those listed above.
Many CBD Hemp Flower users report feeling a decrease in anxiety, deeper rest, and a reduction in inflammation in the body. However, the effects of CBD Hemp Flower can vary from person-to-person.
We are happy to help you select the best CBD Hemp Flower products based on your current needs, so please come see us at one of our retail locations when you're ready to begin or continue your journey with CBD Hemp Flower!
IS CBD FLOWER LEGAL?
Though each state still abides by their own laws determining the legality of CBD Hemp Flower, in December 2018 the Farm Bill was signed. This Farm Bill removed hemp and hemp-derived products from the Controlled Substances Act! This means that, at the federal level, hemp and hemp-derived products are legal as long as they contain less than 0.3% THC.
Again, each state still abides by their own laws on this matter.
WAYS TO USE CBD HEMP FLOWER
Like many natural products, there are numerous ways to use CBD Hemp Flower that protect its purity and maximize its effectiveness. And we know, with a product this beneficial, you'll want to savor everything!
CBD is a fat-soluble compound, so if your intention is to digest the CBD, infusing an oil is a great method. You can infuse olive oil, ghee or butter with your CBD Hemp Flower and enjoy its effects. However, be aware that the digestive process dilutes the effects of CBD Hemp Flower considerably, so it may not be the best choice for those who are wanting to feel the therapeutic benefits of CBD hemp flower immediately.
WHAT ARE THE BEST WAYS TO SMOKE CBD FLOWER?
Many people consider smoking CBD Hemp Flower to be the best way to enjoy its holistic effects. CBD Pre-Roll Joints are one of the most convenient ways to enjoy hemp flower, especially for those who are new to CBD and don't have existing smoking tools.
For experienced smokers, you'll get the most efficiency from using equipment like pipes, bubblers, and vaporizers. But, we personally ensure the quality of the Hemp Flower in our CBD Pre-Roll Joints, so you can rest assured that only the purest, organically-grown Hemp Flower is being enjoyed.
And as smoking allows CBD to enter the bloodstream immediately, this is a great way to feel the therapeutic benefits of this amazing flower in just a few minutes. This is especially effective for conditions that create inflammation in the body.
If you're struggling to decide which method would be best for you, don't hesitate to visit one of our retail locations. We are happy to assist and will do our best to lead you to a product that will satisfy you and enhance your overall well-being – mentally and physically!
WHAT IS THE BEST CBD FLOWER STRAIN? CHOOSE FROM THE PRODUCTS WE OFFER!
General disclaimer: This is a natural agricultural product. Variations in CBD concentrations are to be expected. Batches may vary from large, fluffy flowers to small, dense flowers.
Note: The statements made regarding these products have not been evaluated by the Food and Drug Administration. The efficacy of these products has not been confirmed by FDA-approved research. These products are not intended to diagnose, treat, cure or prevent any disease. All information presented here is not meant as a substitute for or alternative to information from health care practitioners. Please consult your health care professional about potential interactions or other possible complications before using any product. The Federal Food, Drug and Cosmetic Act requires this notice.
Ingredients
Hemp flower, hemp rolling paper
Directions
Consume one pre-roll, once daily, or as desired
Test Results
Additional information
| | |
| --- | --- |
| Base | |
| Brand | |
| Flavor | Blueberry Diesel, Bubba Kush, Cherry Cobbler, Frosted Kush, Golden Sour, Hawaiian Haze, Kalypso, Lifter, Pineapple Haze, Skywalker OG, Sour Sauce, Sour Space Candy, Sour Tsunami, White Widow CBG, Zkittles |
| Manufacturer | |
| Origin | |
| Quantity | |
| Secondary Cannabinoid | |
Dimensions
| | |
| --- | --- |
| Weight | N/A |
| Dimensions | N/A |
1 review for
Carolina Hemp Company™ Pre-Roll Kits
---
01 Customer(s) recommended this item
Reviewed by 01 customer(s)
These are the absolute best. This product is one of my favorites. It works magnificently and I recommend it wholeheartedly.