Free Priority Shipping On Orders $75+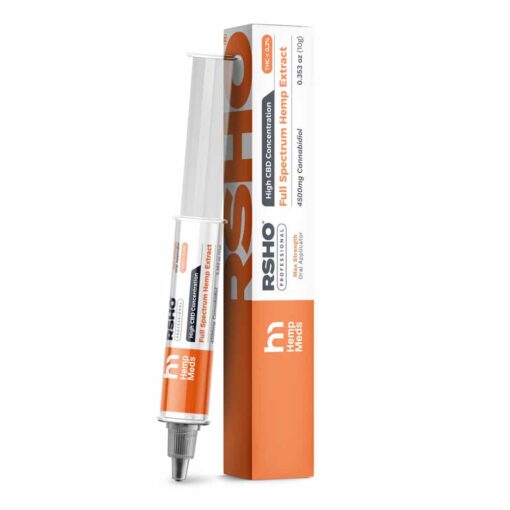 RSHO™ Max Strength Pure CBD Oil
$428.95
RSHO® Maximum Strength Oral Applicator is our highest concentration full-spectrum CBD oil, containing 45% CBD per weight. RSHO® Maximum Strength is a blend of our RSHO® Green and Gold oils, with 225 mg of CBD per serving this product is perfect for people looking for a high concentration of CBD along with the added advantages of using our full-spectrum oil. Containing 4500 mg of CBD per 10-gram applicator RSHO® Maximum Strength is the highest potency product we have available.
RSHO® Maximum Strength Oral Applicator is their highest concentration full-spectrum CBD oil, containing 45% CBD per weight. RSHO® Maximum Strength is created by blending their unadulterated RSHO® Green Label raw CBD oil and their RSHO® Gold decarboxylated and filtered CBD oil into one incredible blend, perfect for those who want to get the most out of their CBD (cannabidiol) supplement.
Each 10-gram tube of RSHO® Maximum Strength contains a total of 4,500 mg of CBD, providing a hefty 225 mg of CBD for every half gram serving. This is far and above the highest levels of CBD per serving of any of their products.
RSHO® Maximum Strength isn't just a way to get high levels of CBD each day. It is also a great source of CBDa, or cannabidiolic acid, an all-natural cannabinoid found in raw cannabis. CBDa, the acidic precursor to CBD, has demonstrated an array of natural health benefits that many families rely on.
RSHO® Maximum Strength is also available bundled in a 3 or 6 pack, helping you save by buying in bulk.
Benefits of RSHO® Max Strength
RSHO® Maximum Strength is an all-natural, full-spectrum botanical extract of the hemp plant that enhances the body's own systems to optimize performance and improve wellness.
Offering 45% CBD by weight, RSHO® Maximum Strength supports the endocannabinoid system, our self-regulatory network tasked with keeping the body and its functions in balance. CBD, an all-natural and non-intoxicating cannabinoid, stimulates endocannabinoid system receptors throughout the body to encourage its efforts to achieve and maintain homeostasis.
RSHO® Maximum Strength is the ideal concentrated CBD oil supplement for anyone who relies on a high concentration of both CBD and CBDa.
This thick full-spectrum CBD oil concentrate product also contains a number of dietary vitamins, minerals, and other nutrients, including omega 3 and omega 6 fatty acids, as well as terpenes, flavonoids, and other trace cannabinoids, to promote overall health and wellness.
How to Use RSHO® Maximum Strength
We look forward to many of our customers trying RSHO® Maximum Strength by first dispensing the oil onto a spoon and then placing the oil under the tongue. By holding RSHO® Maximum Strength in the mouth for a minute or more, the oil's CBD and other active compounds diffuse through the mouth's mucous membranes for quick absorption.
RSHO® Maximum Strength can also be taken orally and ingested. You can add RSHO® Maximum Strength to your favorite fresh or already cooked foods before eating. You can also dispense your CBD oil into an empty capsule and take as you would any pill.
Every 10-gram tube of RSHO® Maximum Strength is carefully packaged in a convenient oral applicator with clear measurement markers and a plunger system to make dispensing consistent daily servings simple.
To preserve the freshness of RSHO® Maximum Strength, it is recommended that you store your oral applicator in the refrigerator to prolong its shelf life.
Quality and Safety of RSHO® Maximum Strength
RSHO® Maximum Strength is sourced from unique varieties of all-natural, non-GMO, high CBD hemp, just like all of the CBD products we carry.
Generational farmers in the Netherlands combine centuries-old techniques with innovative new developments to grow hemp plants without any use of potentially dangerous pesticides, herbicides, or chemical fertilizers. This not only protects our customers, but it preserves the health of local ecosystems around the farms.
After harvest, they use a food-grade CO2 extraction process to extract high concentration CBD oil from hemp plants. The CBD oil concentrates in RSHO® Maximum Strength are then tested for both consistency in their cannabinoid content and safety from contaminants by an ISO certified third party laboratory in the United States.
Triple Lab Tested® process examines the CBD oil used to make RSHO® Maximum Strength three separate times throughout manufacturing to guarantee that it contains the correct amount of CBD and that it's safe to use by you and your entire family.
Ingredients
RSHO Raw Hemp Extract, RSHO Gold Extract
Directions
Take 1/2 gram, or your preferred serving size, and place under your tongue, hold for 60-90 seconds, then swallow
Test Results
Additional information
Non Extract
| | |
| --- | --- |
| Base | |
| Brand | |
| Flavor | |
| Manufacturer | |
| MG | |
| Origin | |
| Primary Cannabinoid | CBD |
| Quantity | |
| Secondary Cannabinoid | |
Extract
| | |
| --- | --- |
| Extract Type | |
| Extraction Method | CO2 |
Dimensions
| | |
| --- | --- |
| Weight | 1 oz |
| Dimensions | 6 × 1 × 1 in |
There are no reviews yet.