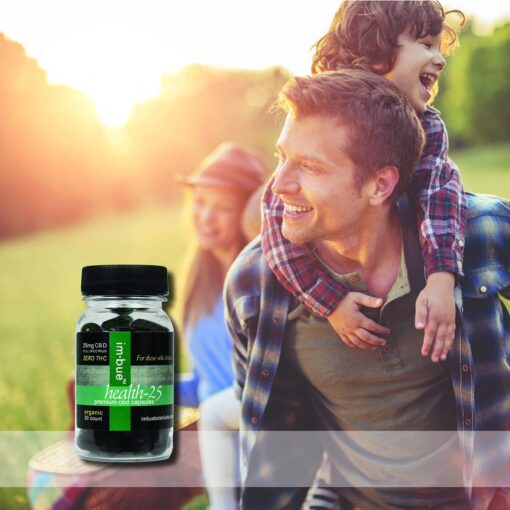 Imbue Botanicals™ Premium CBD Capsules
$42.50 – $98.95
For those wishing more sustained concentration, we offer the premium Imbue ethanolic hemp extract in convenient capsule form. These vegan capsules are an unfiltered color containing natural chlorophyll and other plant compounds, and contain their potent Full Spectrum formulation. Follow package instructions for use. 30 capsules per bottle.
Description
Imbue Botanicals Premium CBD Capsules
Carefully crafted from organically grown Colorado hemp CBD and organic hemp seed oil, these highly effective premium CBD capsules are packed with 25mg of powerful CBD per gel cap, among the other cannabinoids and plant compounds.
Our capsules contain higher and holistic concentrations of CBD and help naturally restore, relieve and protect your endocannabinoid system. Perfect for just about anybody who is searching for the relief they need.
Conveniently packaged in easy-to-carry bottles, they fit perfectly in a purse or backpack. And the vegan gel caps are super easy to take.
Imbue Botanicals is not content to deliver "me too" products, but rather we focus on key factors which we believe increase efficacy and separate us from the pack. Presentation of product, we believe is as important as the product itself. But most important is the quality, consistency and sustainability our products are produced under. With extensive experience in the industry, we personally develop and source all of our products, utilize the highest quality organic ingredients, and never compromise.
Ingredients
Premium Colorado grown CBD Oil infused into organic hemp seed oil.
Directions
Take one capsule, once or twice daily, or as directed by your physician
Test Results
Imbue Botanicals Premium CBD Capsules
Additional information
Non Extract
| | |
| --- | --- |
| Base | |
| Brand | |
| Flavor | |
| Manufacturer | |
| MG | |
| Origin | |
| Primary Cannabinoid | CBD |
| Quantity | |
| Secondary Cannabinoid | |
Extract
| | |
| --- | --- |
| Extract Type | |
| Extraction Method | Ethanol |
Dimensions
| | |
| --- | --- |
| Weight | N/A |
| Dimensions | N/A |
There are no reviews yet.