Free Priority Shipping On Orders $75+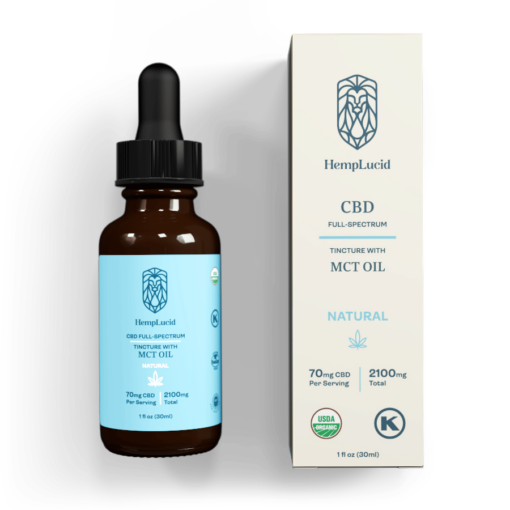 Hemplucid™ USDA Organic MCT CBD Oil Drops
$44.95 – $119.95 — or from $38.21 – $101.96 / month
This full-spectrum tincture is nutritionally enhanced with organic coconut-derived MCT oil.<
USDA Organic full-spectrum CBD
Slow-and-steady absorption
Contains no palm oil
USA grown & manufactured
Less than 0.3% THC
Hemplucid MCT CBD Oil Drops
Choose your concentration of the Following:
600mg Bottle  – Approx 1mg of CBD/drop
1350mg Bottle – Approx 2.25mg of CBD/drop
2100mg Bottle – Approx 3.5mg of CBD/drop
Fact of the matter is that taking nutritional products should taste as good as it can, right?  These MCT CBD Hemp Oil Drops from Hemplucid are very light in flavor and rich in texture.  You shouldn't have trouble getting anyone to take this.
Hemplucid CBD begins with the finest ingredients.  Hemplucid CBD Oil has been meticulously extracted, filtered, and dewaxed, leaving a very concentrated, 50-60+% CBD-rich oil that has the appearance of  blackstrap molasses.  In fact, since all the wax and organic material has been removed, the full suite of active cannabinoids, terpenes, and other bioactive ingredients are liberated to make them more bioavailable….this means they get taken into the body more quickly and easily.  And, by taking this approach, the Cannabinoids in Hemplucid CBD Oil Drops typically measure as:  97% of them are less than 147 nanometers and 3% are the bioactive resins which measure at 752 nanometers. Again, all this means that Hemplucid CBD is using science to enhance their CBD Oil products so that they are more effective.
HEMPSEED OIL FORMULA (from the manufacturer)
"We take this CBD rich hemp oil and gently introduce it into fractionated coconut oil, or MCT oil. This oil is a characteristic clear liquid usually used in nutritional supplement, food, and cosmetic products. This oil has virtually no characteristic odor nor taste.
Due to the bio-availability of the CBD Hemp Oil in MCT, the peak absorption time will be approximately 1 ½ to 2 hours after taking.
Hemplucid CBD truly emphasizes natural products that taste great.
USDA Certified Organic
Made with all-natural, USDA Certified Organic ingredients. Our products are presented as nature intended without the need for artificial ingredients, preservatives, or flavoring.
Ingredients
Organic Fractionated Coconut Oil, Organic Hemp Cannabidiol (CBD) Full Spectrum Oil, Organic Peppermint or Orange Flavoring* (*if applicable)
Directions
There's no one-size-fits-all when it comes to CBD. Everyone is different and will require different amounts to find their sweet spot. Here are a few things to keep in mind as you start your CBD journey.
• Start with a small serving and gradually work your way up to a comfortable daily amount.
• Consistent use is the best way to achieve results and find your balance.
• Store at room temperature away from direct sunlight.
• Extra sensitive to natural hemp flavors? Mix things up by adding CBD to food or dressings.
Test Results
Hemplucid MCT CBD Oil Drops
Additional information
Non Extract
| | |
| --- | --- |
| Allergen Notice | |
| Base | |
| Brand | |
| Flavor | |
| Manufacturer | |
| MG | |
| Origin | |
| Primary Cannabinoid | CBD |
| Quantity | |
| Secondary Cannabinoid | |
Extract
| | |
| --- | --- |
| Extract Type | |
| Extraction Method | CO2 |
Dimensions
| | |
| --- | --- |
| Weight | N/A |
| Dimensions | N/A |
There are no reviews yet.