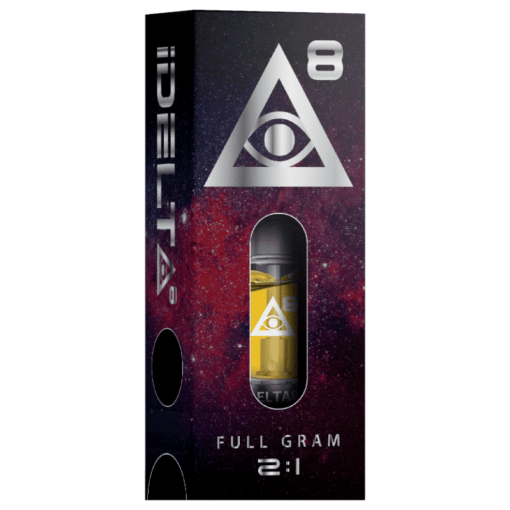 iDELT∆ 8 Premium Silver Cartridge 2:1 CBD/Delta 8 Vape
$39.95 — or
/ month
2:1 – 2 parts CBD / 1 part Delta-8
A SMOOTH, relaxed, spacey ride
CBD counteracts the intense effects of hemp-derived Delta 8 making this option perfect for beginners or CBD Lovers
2:1 – 2 parts CBD / 1 part Delta 8. For those who like to "stay on earth," this is the product for you. We recommend that EVERYONE try this level of potency FIRST. Dearest earthlings, you must float before you can fly. This cartridge requires a 510 thread battery. 
The iDELT∆8 Silver Full Gram Cartridge is a user-friendly cart containing the same formula as the disposable. Comes fully filled with hemp derived d8 distillate and is attached to a standard CBD vape pen designed for vaping the compounds in hemp. When the cartridge runs out, you can toss and replace it, using the same device.
Our Flavors Are Hemp-Legal Cannabis Derived Terpenes
Blackberry Kush (Indica): AKA BBK, this potent indica dominant hybrid comes from a great cross of Afghani and Blackberry, and is chosen for its relaxation potential and tasty finish. Sweet berries mixed with jet fuel and a hashy flavor profile make this a fan favorite, and leads to a great varietal for pain management. A great place to start for beginners who want a fruity taste to calm that potent cannabis grit.
Blue Dream (Sativa): A calming and euphoric sativa strain coming all the way from California. A cross between Blueberry and Haze, the taste blossoms with bright pine and sandalwood notes and hints of citrus-moss. We are told this could produce a full-body relaxation with gentle cerebral stimulation.
Northern Lights (Indica): Hailed as one of the rarest strains on your planet, this deep, floral, spicey, nutty-wood tasting indica produces a pleasant relaxation of the muscular system and of the delicate brain parts in your cranial vaults.  Stress and everything that comes with it all meet their match with this classic cannabis cultivar. Gaze up at the aurora borealis from northern latitudes, or just watch Windows 95 screensaver visualizations like we do as part of our psychedelic meditations on our planet.
Pineapple Express (Sativa): The namesake for one of our world's most cherished examples of intellectual avant-garde human cinema, Pineapple Express is a sativa-dominant strain with tantalizing notes of pineapple and pine trees, but not pine nuts, Pine-Sol, or porcupines. Tackle your honey-do lists AND your cantaloupe lists with renewed energy and mental stimulation while you take a ride on this thundering locomotive.
Skywalker (Hybrid): Disney copyright laws have intergalactic effect so we can't talk about whom this famous hybrid strain is named after. However, we CAN talk about the delectable piney skunky gasoline notes, and the perfect blend of body and mind relaxation you can expect from a true OG strain. You may feel like you can walk on air and/or wield a laser sword after indulging. Or perhaps you'll just murder everything in your fridge while binge watching the original trilogy. We don't judge.
White Recluse (Hybrid): Named after the albino arachnid pulled straight from your nightmares – we've confirmed this with telepathy instruments – this strain is another very well-balanced hybrid and was rather difficult to find. We fortuitously managed to locate it for your convenience, so you can enjoy the citrusy pungent shimmery cannabis taste  and happy "couch-lock" effects that may accompany a heavy dose. Tread lightly with this beast of a strain. It is truly the most unique strain of the bunch.
Ingredients
Cannabinoid rich hemp extract, terpenes
Directions
Attach cartridge to 510 vape pen, and enjoy
Test Results
There are no reviews yet.