Free Priority Shipping On Orders $75+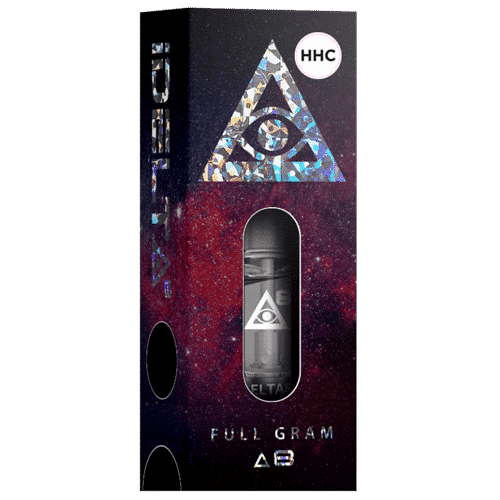 iDELT∆ Premium Diamond HHC Cartridge
$34.95
90+% HCC Content
Full Gram Cartridge
Made with Real Cannabis Terpenes
Our alchemists here on the mothership have been diligently toiling away to isolate new compounds from the hemp plant, and with HHC they landed on something special – it provides a smooth ride for journeys similar to other cannabinoids, but actually isn't any kind of THC. Word on the spaceways is that it might not register on common earthling drug tests, but we haven't had the chance to test that hypothesis ourselves. Your mileage may vary on that front.
Our Flavors Are Hemp-Legal Cannabis Derived Terpenes
Blackberry Kush (Indica): Also known as BBK, this potent indica is often chosen for its relaxation potential and tasty finish. Evidently some earthlings claim to detect aromatic notes of ripe blackberries and fuel in this strain. This is a great choice for beginners who want a fruity taste to calm that potent cannabis grit. (Perhaps one day you can appreciate one of the rare delicacies of our world; Big bang berry beetles.…quite good with toast if you can catch them.)
Blue Dream (Sativa): A calming and euphoric sativa strain native to your California province. The taste blossoms with bright pine and sandalwood notes and hints of citrus-moss. We are told this could produce a full-body relaxation with gentle cerebral stimulation when used in humans. However, our personal experience has been nothing but recurring flashbacks of the "Smurfs" episodes that first alerted us to your existence when they beamed to our planet.
Northern Lights (Indica): Hailed as one of the rarest strains on your planet, this deep, floral, spicey, nutty-wood tasting indica produces a pleasant relaxation of the muscular system and of the delicate brain parts in your cranial vaults.  Stress and everything that comes with it all meet their match with this classic cannabis cultivar. Gaze up at the aurora borealis from northern latitudes, or just watch Windows 95 screensaver visualizations like we do as part of our psychedelic meditations on our planet.
Pineapple Express (Sativa): The namesake for one of our world's most cherished examples of intellectual avant-garde human cinema, Pineapple Express is a sativa-dominant strain with tantalizing notes of pineapple and pine trees, but not pine nuts, Pine-Sol, or porcupines. Tackle your honey-do lists AND your cantaloupe lists with renewed energy and mental stimulation while you take a ride on this thundering locomotive.
Skywalker (Hybrid): Disney copyright laws have intergalactic effect so we can't talk about whom this famous hybrid strain is named after. However, we CAN talk about the delectable piney skunky gasoline notes, and the perfect blend of body and mind relaxation you can expect from a true OG strain. You may feel like you can walk on air and/or wield a laser sword after indulging. Or perhaps you'll just murder everything in your fridge while binge watching the original trilogy. We don't judge.
White Recluse (Hybrid): Named after the albino arachnid pulled straight from your nightmares – we've confirmed this with telepathy instruments – this strain is another very well-balanced hybrid and was rather difficult to find. We fortuitously managed to locate it for your convenience, so you can enjoy the citrusy pungent shimmery cannabis taste  and happy "couch-lock" effects that may accompany a heavy dose. Tread lightly with this beast of a strain. It is truly the most unique strain of the bunch.
Ingredients
HHC Distillate, cannabis derived terpenes
Directions
Screw cartridge onto 510 compatible battery, and enjoy
Test Results
Additional information
Non Extract
Extract
| | |
| --- | --- |
| Extract Type | |
| Extraction Method | CO2 |
There are no reviews yet.