Free Priority Shipping On Orders $75+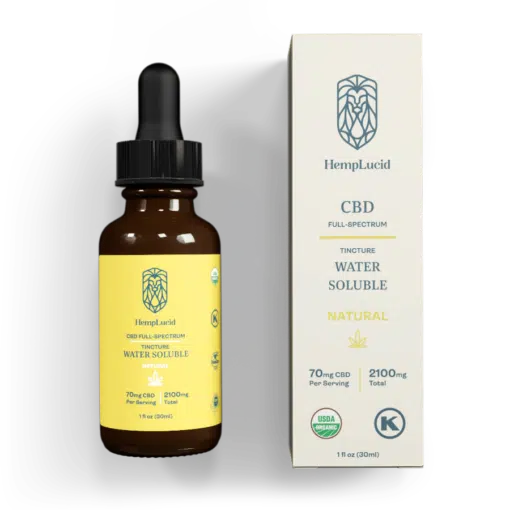 Hemplucid™ USDA Organic CBD Water Soluble Drops
$44.95 – $119.95 — or from $38.21 – $101.96 / month
Hemplucid's USDA Organic Water Soluble full-spectrum CBD tincture is nano-enhanced for fast-acting results and can be mixed with your favorite beverage, smoothie, or shake.
USDA Organic full-spectrum CBD
Nano-enhanced for fast-acting results
Mixes well with drinks and other liquids
USA grown & manufactured
Less than 0.3% THC
Hemplucid Water Soluble CBD Oil Drops
Simply choose your preferred concentration, and enjoy! The various strengths are:
600mg Bottle  – Approx 1mg of CBD/drop
1350mg Bottle – Approx 2.25mg of CBD/drop
2100mg Bottle – Approx 3.5mg of CBD/drop
Fact of the matter is that taking nutritional products should taste as good as it can, right?  These CBD Hemp Oil Drops from Hemplucid are very tasty and sweet.  You shouldn't have trouble getting anyone to take this.
The idea that these Hemplucid CBD drops are water soluble means that it is easy to digest and enter the body at a cellular level.  That it is great tasting and all natural means it's going to be easy to get it into your mouth more often, providing better results!
The water soluble CBD drops are made with 100% pure vegetable glycerin and are naturally silky sweet, sugar-free, and have a low glycemic response. Glycerin acts as a natural preservative, and therefore no chemicals, preservatives, binding agents, emulsification agents are added to the product. Just the finest CBD oil, 100% pure vegetable glycerin, and ultra-purified water.
Take Hemplucid water soluble CBD Oil Drops straight or put them into your smoothie, juice or water. The great taste makes this is an incredibly easy way to take the product for children or adults.
No Refrigeration  Glycerin will thicken almost to a gel as it gets cold.  Because glycerin is a natural preservative, store this product in your cool, dark cabinet with the rest of your daily vitamins and supplements so you'll easily remember to take them.  There is no need to store this in a refrigerator to keep it safe.
Whole-Plant™ We start by taking the most refined and concentrated CBD oil, and then running it through our proprietary Whole-Plant™ process, which bonds the full-spectrum CBD oil within 100% pure vegetable glycerin.  The robust Whole-Plant™ process produces an extremely concentrated glycerite through a multiplex extraction and bonding techniques that result in a stable, embedded CBD oil within the glycerin.
Do not confuse our process with other similar products where the oil is simply an emulsified oil in glycerin with binding agents, or simple, dilute glycerin tinctures.  Our process is truly natural, Kosher certified, vegan compliant, FDA registered, free of preservatives or additives, alcohol free, gluten free, dairy free, nut free, and cGMP/HACCP compliant.
Sorry to be so technical, but its important to point out that Hemplucid water soluble CBD drops are not like most others on the market.  This sweet CBD tincture is a robust and potent form of CBD, which tastes great and is convenient to use.
Hemplucid CBD truly emphasizes natural products that taste great.
USDA Certified Organic
Made with all-natural, USDA Certified Organic ingredients. Our products are presented as nature intended without the need for artificial ingredients, preservatives, or flavoring.
Ingredients
Organic Vegetable Glycerin, Organic Hemp Cannabidiol (CBD) Full Spectrum Oil, Nano Electrolyte Blend, Organic Sunflower Lecithin
Directions
There's no one-size-fits-all when it comes to CBD. Everyone is different and will require different amounts to find their sweet spot. Here are a few things to keep in mind as you start your CBD journey.
• Start with a small serving and gradually work your way up to a comfortable daily amount.
• Consistent use is the best way to achieve results and find your balance.
• Store at room temperature away from direct sunlight.
• Sensitive to natural hemp flavors? Mix things up by adding CBD to food or drinks.
Test Results
Hemplucid Water Soluble Glycerin CBD Oil Drops
Additional information
Non Extract
| | |
| --- | --- |
| Base | |
| Brand | |
| Flavor | |
| Manufacturer | |
| MG | |
| Origin | |
| Primary Cannabinoid | CBD |
| Quantity | |
| Secondary Cannabinoid | |
Extract
| | |
| --- | --- |
| Extract Type | |
| Extraction Method | CO2 |
Dimensions
| | |
| --- | --- |
| Weight | N/A |
| Dimensions | N/A |
There are no reviews yet.