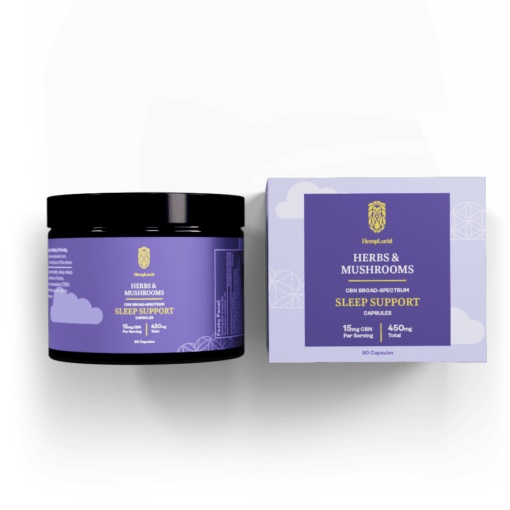 Hemplucid™ Sleep Stacks CBN Capsules
$64.95 — or
/ month
90 CBN capsules per bottle
5mg CBN per capsule
Powerful Mushroom and Botanical Blend
Packed with Adaptogens to Promote Better Sleep
There's no such thing as a magic pill, but our Stacks come close. Don't snooze on a good night's sleep — try this blend of CBN, mushrooms, and herbs.
It's no secret that a poor night's sleep can put a damper on your day.
Our Sleep Stack was developed to make your mornings a little brighter. This stack supports healthy sleep patterns without melatonin or sedatives. Restore balance to disrupted circadian rhythms and return to deep, natural sleep.
Here's just a taste of some of the amazing ingredients that these Sleep capsules are packed with.
Reishi mushrooms may help support a good night's sleep and lessen fatigue, helping you wake up bright-eyed.
Blue vervain is calming and may help you fall asleep faster and stay asleep longer.
We worked with a master herbalist to create these Stacks because we want your health to be as accessible as possible. Instead of having to buy a dozen different supplements, our Stacks make it easy to get all of the right ingredients in one easy-to-swallow capsule.
So what are you waiting for?
Ingredients
Proprietary Herbal Blend (Reishi Mushroom, Lemon Balm Extract, Motherwort Extract, Hops, Blue Vervain Extract, Passion Flower Extract, Catnip, Lobelia), 5HTP, L-Theanine, Magnesium, CBN (15mg)
Directions
Take 3 capsules each day, one hour prior to bedtime, with or without food
Test Results
Additional information
Non Extract
| | |
| --- | --- |
| Base | |
| Brand | |
| Flavor | |
| Manufacturer | |
| MG | |
| Origin | |
| Primary Cannabinoid | CBN |
| Quantity | |
| Secondary Cannabinoid | |
Extract
| | |
| --- | --- |
| Extract Type | |
| Extraction Method | Powderized |
There are no reviews yet.